Volunteers Needed for Home From Home After School Service For Children With Special
Needs FLAG DAY which is on in Killarney on Saturday 3 rd November 2018.
Have you got 2 hours to spare? We are fundraising here in Killarney and need your help. To
get involved contact Mick Leahy on 087 9104546, or text 087 4341166 leaving Name Time
you would like to do and phone no.
Times are
10am to 5.30pm
Would hope everyone here in the service could give 2hrs on the day.
10 – 12
12-2pm
2-4pm
4-5.30pm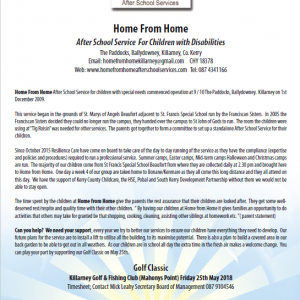 Thanking you
Read more...